[youtube_sc url="http://youtu.be/Nzt1wFRU_Ro" color="white" modestbranding="1″ controls="1″]
Dragi prijatelji biciklisti i ostali poštovaci "Majke Prirode" :)…
…22. aprila je dan planete Zemlje. Tim povodom, ljudi sa društvenih mreža (Twitter-a, Facebook-a, Google Plus-a) su se dogovorili da na jedan fin način obilježe taj dan, skrećući pažnju na prevelik broj zagađujućih automobila i na prelijepo, zaboravljeno sredstvo prevoza – biciklo.
Vrijeme je za BicikloUP!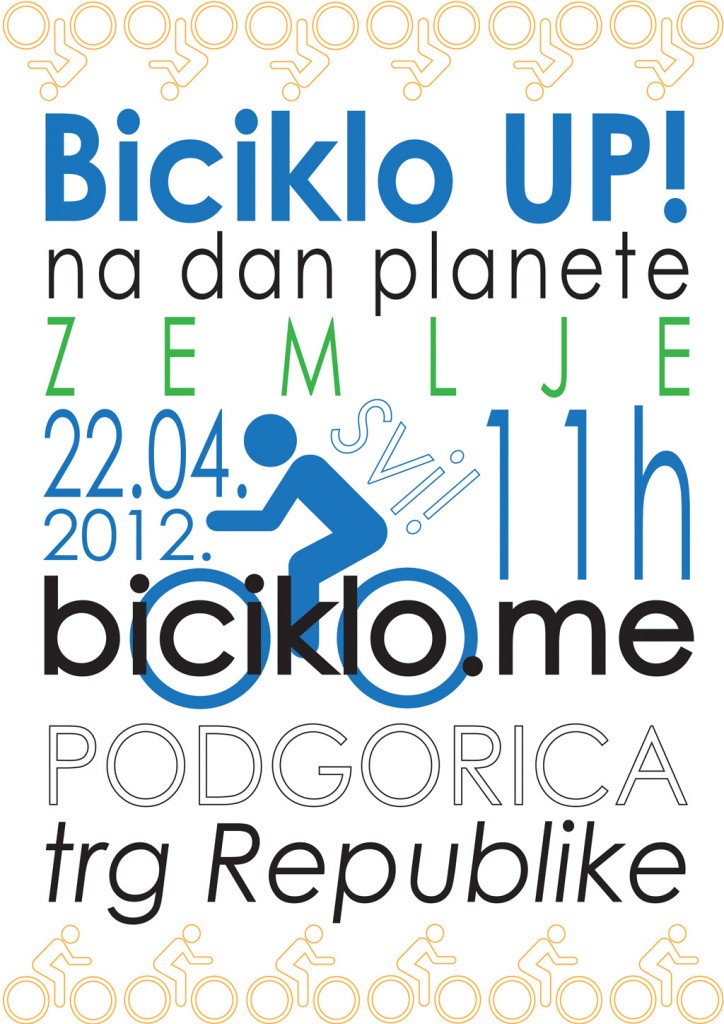 Pozivamo Vas da se svi, 22. aprila u 11 časova ujutro, zajedno okupimo kod fontane na podgoričkom trgu Republike i lagano, kao ravnopravni učesnici u saobraćaju (što i jesmo), poštujući saobraćajne propise, uz pratnju policije, odvozimo simboličan krug: Trg – Milenijum – Mala Pijaca – Vektra – Union Bridge – Sahat Kula – Trg.
Ti treba da dođeš jer želiš da slaviš ono što nam je priroda dala, jer uživaš u jednostavnosti genijalnog izuma koji nam omogućava da "odlebdimo" sa jednog mjesta na drugo, jer ti voliš da se družiš i upoznaješ ljude sličnih interesovanja, jer te je ponekad strah naših vozača u limenkama kojima želimo na ovaj način da kažemo "alo pazi malo krealju" :), jer su ti izdušene gume na biciklu a mi ćemo imati pumpu, jer želiš da ima što više biciklista u Podgorici, što bi dovelo i do boljeg planiranja saobraćajne infrastrukture u budućnosti. Ti moraš da dođeš!
Znači: ako si dva puta vozio biciklo u životu ili ako si profesionalac ili ako si rekreativac ili ako ti je biciklo glavno prevozno sredstvo – vidimo se kod fontane!
Očekujemo Vas u grupama i pojedinačno!
Nakon svega, grupice se mogu organizovati i po želji nastaviti vožnju 😉
PS. Ne zaboravite da "šerujete" ovaj sajt na svim društvenim mrežama gdje imate nalog, jer je sve ovo tako i počelo. 
PPS. Obavezno se registrujte na naš forum, biće Vam od izuzetne koristi ukoliko ga redovno budete posjećivali.
+ Svi voljni da pomognu mogu odstampati plakat na A4 ili A3 listove i zalijepiti negdje po gradu, u skoli/fakultetu, na radnom mjestu, u kaficu i raznim drugim lokacijama. 🙂
Plakat – http://www.mediafire.com/?qt92aei4a4uscqb
—————————————————————————————–
Dear friends and cyclists,
as you know, on April 22nd is Earth Day. On this occasion, people from the social networks (Twitter, Facebook, Google Plus) suggested a nice way to mark this day. In order to draw attention to a large number of polluting cars in Podgorica, in comparison to the forgotten means of transportation – a bicycle, we will organize a big Bike parade in Podgorica on this day.
It's time to BicikloUP!
We invite you to join us at the fountain on the Main square in Podgorica, at 11 AM on April 22nd. There will be the Start point of the big Bike parade. As equal participants in the every-day traffic (as cyclists should be), observing traffic regulations and probably accompanied by police, we will ride one symbolic circle: Main Square – Millennium bridge – Small Market – "Vektra "- Union bridge – The old Clock Tower – Main Square.
Either you are a professional rider or you have only cycled twice, we would like to see you at the fountain! We expect you in groups and individually.
Afterwards, small groups could be arranged and could continue driving…
Don't forget to spread the word. 🙂